Description
In this topic, the student will implement and deploy a live chatbot version of the DBpedia Neural Question Answering dataset [1].
[1] https://github.com/AKSW/DBNQA
Goal
Create a life DBpedia Neural Chatbot based on DBNQA and NSpM.
Impact
(1) Facilitate access to DBpedia content;
(2) Enable community evaluation and feedback of DBpedia NSpM models.
Warm-up tasks
(1) Fork the NsPM project (https://github.com/AKSW/NSPM );
(2) Train the Monument 300 and Monument 600 datasets https://github.com/AKSW/NSpM/tree/master/data;
(4) Fork and train the model using a subset (30 first lines) of DBNQA dataset https://github.com/AKSW/dbnqa;
(5) Instantiate the NSpM Telegram Chatbot: https://github.com/AKSW/NSpM/wiki/NSpM-Telegram-Bot
Reference Material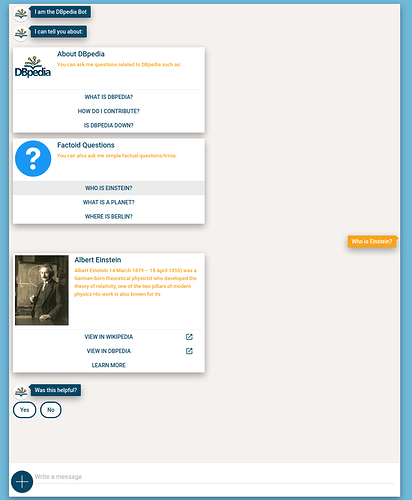 Mentors
Edgard Marx
Lahiru Hinguruduwa
Thiago Castro Ferreira
Keywords
#NSpM #DBpedia #Chatbot #AI #ConversationalAI